Stuart, FL - The Martin County Property Appraiser's Office (MCPAO) released the 2023 estimated preliminary taxable values to the ten Martin County Taxing Authorities today. The Taxing Authorities will use the estimated taxable values to prepare their upcoming budgets and determine their proposed millage rates.
The numbers show that Martin County taxable values are at $31.6 billion, an increase of 12.23% compared to last year's number of more than $28.1 billion.
The market value or what a home or business is valued comparably to others increased by 19.22% to $53.4 billion, compared to last year's value of more than $44.8 billion.
"The 2022 real estate market continued forward with the incredible valuation growth that started in 2021" said Martin County Property Appraiser Jenny Fields. "Our preliminary estimated tax roll results showed broad value appreciation in most real estate sectors and specifically strong growth in residential property values which drove double digit market and taxable value increases in all taxing authorities throughout the County."
Sales of residential properties had a 2nd consecutive year of above 20% value appreciation. Within this sector, single family homes increased roughly 20% while condominiums increased 27% on average. Overall sales volume during the 2nd half of 2022 slowed in response to higher interest rates. This shift in demand increased the average number of days it typically took a property to sell, however, sale prices stayed at their peak up to the end of the year.
A deeper look inside new construction shows a market value growth of $600 million this year. This growth is primarily led by a 69% increase in new homes being built in some of our communities such as Osprey Preserve, Ocean Cove, Canopy Creek, Seawalk, New Avonlea (Preserve), and Banyan Bay. Residential new construction for single family homes, townhomes, condominiums, cooperatives, and mobile homes accounted for $394.5 million and multi-family new construction accounted for an additional $94.5 million. Together, these 2 categories represent roughly 80% of the total $600 million in ad valorem new construction.
Martin County continues to be a highly desirable commercial, industrial and multi-family market as seen with the various projects being developed throughout the county. Notable projects completed prior to the January 1st date of assessment are the Harbor Grove Apartments with 324 units, the Savona at Stuart with 182 units, and the strategically located South Martin Industrial Park that includes 9 buildings with over 96,000 square feet of warehouse space.
The ten Martin County Taxing Authorities are the Children's Service Council, the City of Stuart, the Florida Inland Navigation District, Martin County Board of County Commissioners, the Martin County School Board, the South Florida Water Management District, the Town of Jupiter Island, the Town of Sewall's Point, the Town of Ocean Breeze and the Village of Indiantown.
These estimated preliminary taxable and market values are based on market conditions as of January 1, 2023.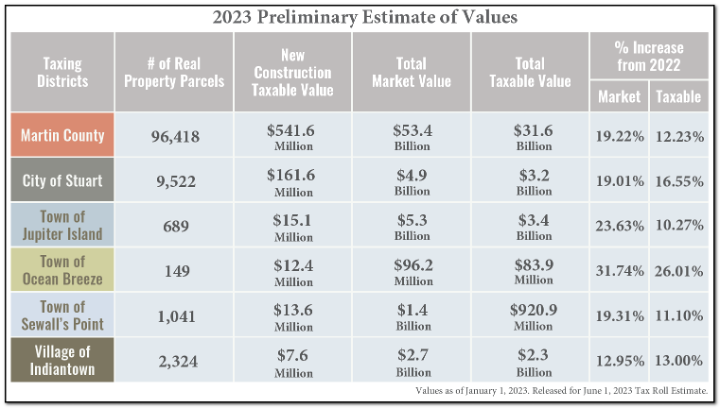 Fields and her office professionals will next certify the 2023 Preliminary Tax Roll to the Florida Department of Revenue before the July 1 deadline.
For more information or to schedule an interview with Martin County Property Appraiser Jenny Fields, please email This email address is being protected from spambots. You need JavaScript enabled to view it..