Did you ever wonder what new housing developments are going up around your neighborhood? Or, if you qualify for an agricultural classification? On the Martin County Property Appraiser's website homepage under Quick Links, you'll find NEW: Proposed Developments and NEW: Ag Classification Questionnaire.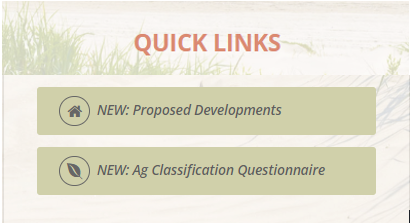 Proposed Developments: Proposed Developments allows you to see what developments are approved, approved for construction, in construction, or in review. You can also review by agency: All, County, Indiantown, Jupiter Island, Ocean Breeze, Sewall's Point, and Stuart. Click on the link and you'll be directed to the Martin Metropolitan Planning Organization Development Review Interactive Map.
Visit https://experience.arcgis.com/experience/b1364d1c59e44fdb9189918c8158816e.
Agricultural Classification Questionnaire: Agricultural (Ag) classification means you are using your land for a bona fide commercial agricultural purpose. Click on the Ag Classification Questionnaire and answer a few questions to see if you qualify for the tax saving benefits. If you already qualify for this benefit and want to offer agritourism activities on your property, find out if it will affect your agricultural classification.
Visit https://www.pa.martin.fl.us/agricultural-classification-agritourism.